Dear students,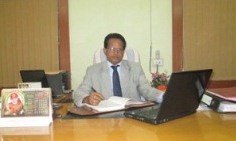 It is my warm welcome to all students to the campus of this great educational institution and best wishes for them. I expect a memorable, meaningful and rewarding tenure for them and emerge as world-class engineers, scientists, architects and great professionals with a human heart. I would urge upon them to prove as good human beings and sincere citizens of this great country, India. Also I would like to thank the parents of our students and every one visiting this institution to go around the beautiful and sprawling campus at Adarsha College of Engineering for kind and heartily support.
Adarsha College of Engineering, which was set up in 2009 has laid the foundation of modern engineering education. Over the years, the Adarsha College of Engineering has evolved to reach and hold a unique position of pride in the technical education system in India. This college is known all over India for providing quality technological and scientific education.
Adarsha College of Engineering had a rich heritage of the past and had its standing as one of the best engineering colleges in Odisha. As of now, Adarsha College of Engineering has 8 academic departments supported by the several service centers like Computer Centre, Instrumentation Centre and Central Library. The Institute offers 7 undergraduate (B. Tech) courses in engineering, four M. Tech courses in engineering and 8 Diploma Courses. Admissions to the undergraduate, M. Tech courses are made through a nationwide Joint Entrance Examination (JEE Main) and Odisha JEE.
We have total student strength of about 3500 (including more than 100 M. Tech scholars), faculty strength of almost 160 faculties and a support staff of about 200. Adarsha College of Engineering has a rich Alumni base that has significantly contributed in the nation building process.
My dear students, here at Adarsha College of Engineering you will not only get top quality of education, but also you will have an all round development with the co-curricular activities, sports, and cultural activities. These activities are as equally important as that of education.
With best wishes,
Dr. Prakash Chandra Dhal
Director, AGI, Angul