Dear students,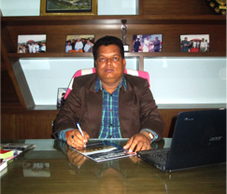 It is a great privilege for me to express our vision towards technical education with you. Technological progress in the last few decades has helped to purge national barriers and create a global market.
The vision of ADARSHA GROUP OF INSTITUTIONS is to promote nation building activities and to provide goal-oriented, quality based and value-added education. As today's era demands innovation and ramification in technology, so the role and responsibility of a technical institution is to facilitate effective and innovative teaching-learning process, by emphasizing on the entrepreneurship, cultural sensitivity and soft skill, which are most important tools for the successful global engineers.
Adarsha College of Engineering is an institution that is completely dedicated to students' aspirations for excellence in technical education. The institute has piously adopted the word "The Change" based on the feedback from the students, parents and faculty for continuous betterment of students. Beside technical competence, I feel that moral values are equally important which need to be imbibed in the future engineers and technocrats to make them better citizens beside honing their technical skills.
I wish you every success and look forward for meeting you in the near future.
Dr. Mahesh Chandra Dhal.
Chairman ,Adarsha Group of Institutions